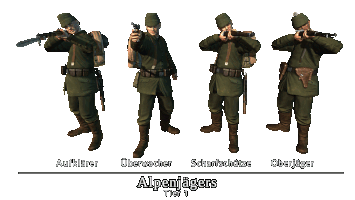 A scout squad, also termed a recon or alpine squad, is composed of four members, an NCO and three riflemen with marginally different equipment.
The squad can call in a reconnaissance plane (which cannot be shot down), which will allow the members of the squad to see all enemies on their minimap, and past level 60, can drop an airplane bomb on the targeted location.
Members of a scout squad will always spawn on the farthest forward applicable spawnpoint. This means that unlike a normal rifle squad, which spawns on the NCO, any player in one of these squads who survives can spawn the rest of their squad on their position.
Types
[
]
Most of the major factions have a scout squad, including the following in alphabetical order by squad name: