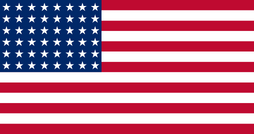 The United States, in long form United States of North America, is a transcontinental country and one of the last participant in the First World War, fighting with its French and British allies after 1917, when it joined the conflict.
United States, as other nation like kingdom of Bulgaria, joined the war lately in 1917, a direct consequence of the war that was tearing apart Europe. Indeed, a large part of the american population were still bearing scars of the Civil War and the President of USA Woodrow Wilson wanted to keep the nation away from a European conflict, but change progressively his mind to declare war on German Empire after the torpedoing of the RMS Lusitania in 1915 that caused the death of 1200 passengers including 200 americans civilians. The diplomatic relations deteriorated since this shipwreck and the United States decided to join the war on the side of the Entente in April 1917. A lot of Americans had a francophile feeling regardless of the french implication in the Civil War, a volunteer reinforcement was created to join the french air forces (Escadrille des Cigognes) they were called "La Fayette Squadron"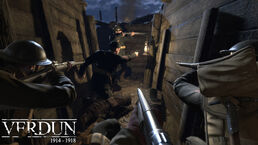 The Americans troops weren't correctly equipped and the French and British army had to provide them weapon and armor, but the "Sammies" fought bravely by coordinating their attack with the French army at the Meuse-Argonne offensive in 1918 and brought a non negligible help in the final victory.
In the game, it is represented in the game by two squads: